Mary Fan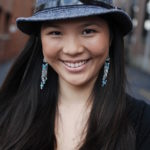 Mary Fan is a hopeless dreamer, whose mind insists on spinning tales of "what if." As a music major in college, she told those stories through compositions. Now she tells them through books—a habit she began as soon as she could pick up a pencil. Flynn Nightsider and the Edge of Evil follows a well-received debut novel, a space opera titled Artificial Absolutes (2013), and is the first in the Flynn Nightsider series. Mary would like to think that there are many other novels in her bag, and hopes to prove that to the world as well.
Mary lives in New Jersey and has a B.A. from Princeton University. When she's not scheming to create new worlds, she enjoys kickboxing, opera singing, and blogging about everything having to do with books.
Learn more about Mary Fan, her books, and the upcoming anthology she is editing by visiting her website and following her on social media!
Almost a hundred years ago, the Enchanters defeated the Lord of the Underworld in one of the most fearsome wars the world had ever seen. The public thinks that this victory means the people are safe. But they're wrong.
It's been three months since Aurelia survived the International Challenge—an elite monster-fighting competition. And the Triumvirate has been keeping a close eye on her ever since … as if they expect her to cause them more trouble.
A teen girl wakes up in an icy cell, alone and frightened. She has no memory of who she is or how she came to be there.

She does know that she must get out, at all costs. And that escape must start with remembering the simple things – her own name. Her place of origin. Her possible powers.
Fire fears nothing. And Elaia is about to show her world that she doesn't, either.

Like the rest of her kind, fire nymph Elaia is bound to her homeland, a forest whose borders were closed centuries earlier.

But her heart is as restless as the flames she casts, and she secretly yearns to defy that order.
Read more...
Read more...
Read more...
Read more...