Summer 2017 Reading Recommendations #2
Hello, blogosphere! How are we all today? Has the heat of summer gotten to you? Is the only thing you can think about getting out of the sun, crawling into a cool, dark room, and reading a good book? Did you just finish one book without (gasp!) a plan for what to read next? (Right, we know this is a silly question, because your TBR list is probably just as crowded as ours BUT…) Never fear! Because we've got more recommendations from some of our fabulous authors–both what they're reading and what they're recommending this summer!
Mary Fan
Ron Chernow's Alexander Hamilton! You know, THE Hamilton biography. I was a huge history nerd and became a fan of Hamilton in high school, but I was just about the only one who knew who he was for the longest time. Compound that with the fact that I resented a building on my campus with the name Aaron Burr and kept having to explain why to befuddled friends. So imagine my surprise when Hamilton's popularity exploded thanks to the musical… Anyway, I've been meaning to read it FOREVER so I can fangirl over my favorite founding father. I have it on audio and it's about forty hours long… I'm determined to listen to every word of it!!
Josh Wilcox
I just finished Dark Matter by Blake Crouch, which was really interesting sci fi that I thought was very applicable to a manuscript I'm planning to write for Nano. Now I'm hitting Lord of the Rings again, because that's always conducive to relaxation, inspiration, and happiness. Also have The Thief, Winter Witch, and Leviathan on my list, though I'm looking for something thoroughly 80s as well.
KristaLyn Vetovich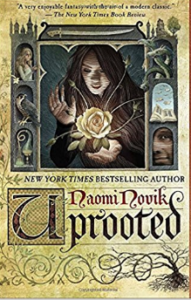 I'm currently reading Uprooted by Naomi Novik. I heard a bunch of people talk about it and couldn't resist checking it out myself. I love a good medieval fantasy, and it's been awhile since I've read one.
Most of the books on my list are because all of the Bookstagrammers I follow, who have been posting about them nonstop, which is like how talking about food can make you hungry! I have a craving to read these books now:
A Court of Thorns and Roses by Sarah J. Maas. I haven't read up on it much, aside from conversations about it in comments, but it sounds like there might be fairies or magic people, so I'm in.
Flame in the Mist by Renee Ahdieh. Again, it sounds very fantasy and a lot of people love the characters. Sound super interesting.
This Savage Song by Victoria Schwab because she is my favorite author that I'm currently following on Instagram and she just released the last book of this duology. She's been dropping teasers that I can't resist!
And finally, this won't come out till fall, but I can't wait to read the compiled Magic of Wind and Mist duology by Cassandra Rose Clarke. I read her Assassin's Curse books years ago and really enjoyed them. Then I read the first book of this duology and the sequel never came! It's finally releasing this year, and there is a weird water-creature character that I wanted to learn more of, so I can't wait to finally learn what he's all about.